Roasted Tomatillo
& Chicken Enchilada
Casserole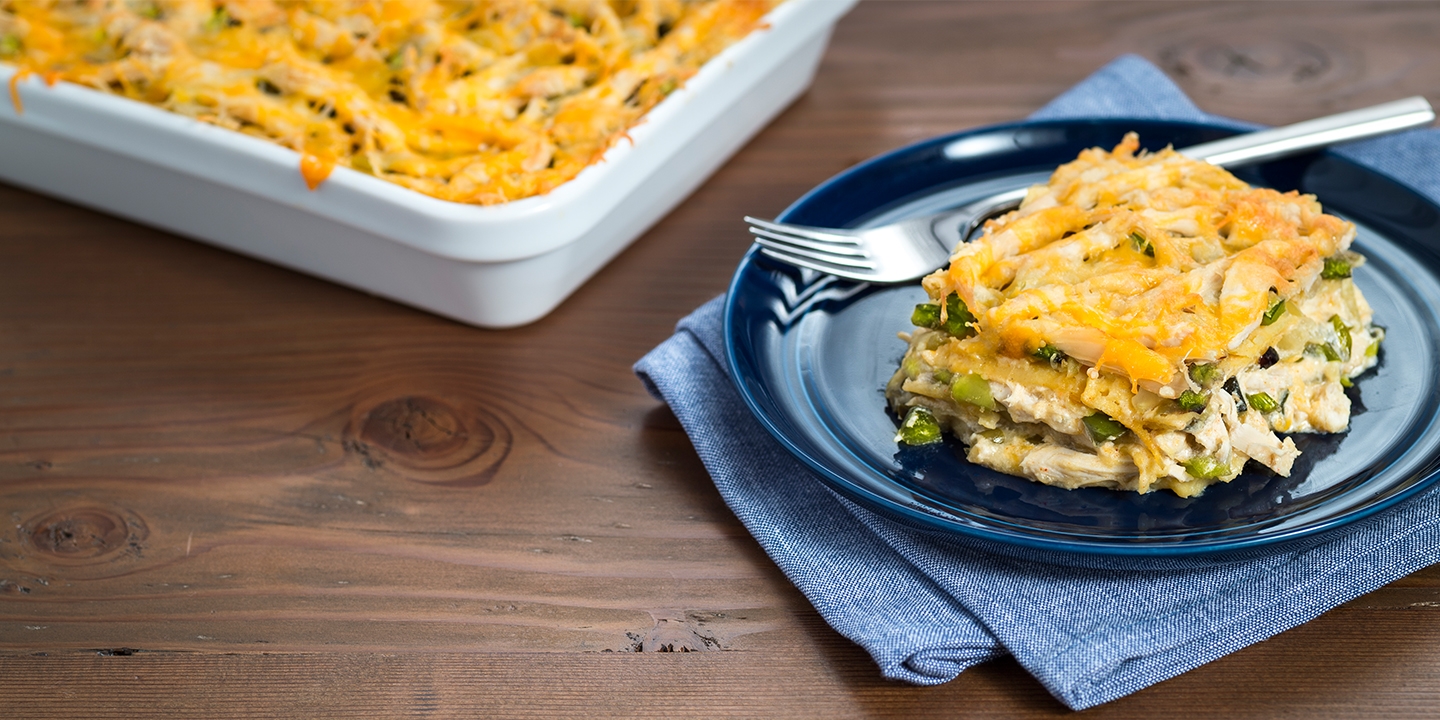 Ingredients
1 tbsp. vegetable oil

1 medium poblano pepper

12 tomatillos

2 tbsp. Cache Valley

®

butter

1 cup green onions, thinly sliced

3 tbsp. flour

2 cups chicken broth

8 oz. light sour cream

¼ tsp. chipotle powder, optional

18 corn tortillas

4 cups shredded rotisserie chicken

3 cups Cache Valley

®

Finely Shredded Four Cheese Mexican Shreds
Steps
PLACE oven rack 6 inches from the broiler and preheat broiler. Brush a cookie sheet lightly with oil. Spray a 13 x 9-inch baking pan with non-stick cooking spray.

REMOVE and discard stems, seeds and pulp from pepper. Cut pepper in half lengthwise.

REMOVE paper husk from tomatillos and rinse them. Cut in half across the diameter. Place tomatillos and pepper cut side down on baking sheet and brush lightly with oil.  

BROIL for 6 to 8 minutes until lightly browned. Let sit for 5 minutes or until cool enough to handle. Chop and set aside.

RESET oven to 350° F.  

MELT butter in a medium saucepan over medium-low heat.  Sauté green onions until soft, about 2 minutes. Stir in flour until well blended. Gradually stir in chicken broth.  

BOIL on high heat then reduce heat to medium and simmer until sauce has thickened. Add in sour cream and chipotle powder. Remove from heat and set aside.

BRUSH a small skillet lightly with oil as needed to sauté the tortillas.  Sauté each tortilla separately for about 10 to 20 seconds on each side until cooked through, but not crisp.

SPREAD ½ cup sauce onto the prepared pan. Layer 6 tortillas over the sauce to form a single layer. Spread tortillas with

⅓

of the tomatillo and pepper mixture, then top with

⅓

of the chicken and 1 cup of the cheese. Repeat for a total of 3 layers, ending with cheese on top.

BAKE uncovered near the top of the oven for 35 to 40 minutes until bubbling and lightly browned.