No-Knead
Focaccia Bread
with Caramelized
Onions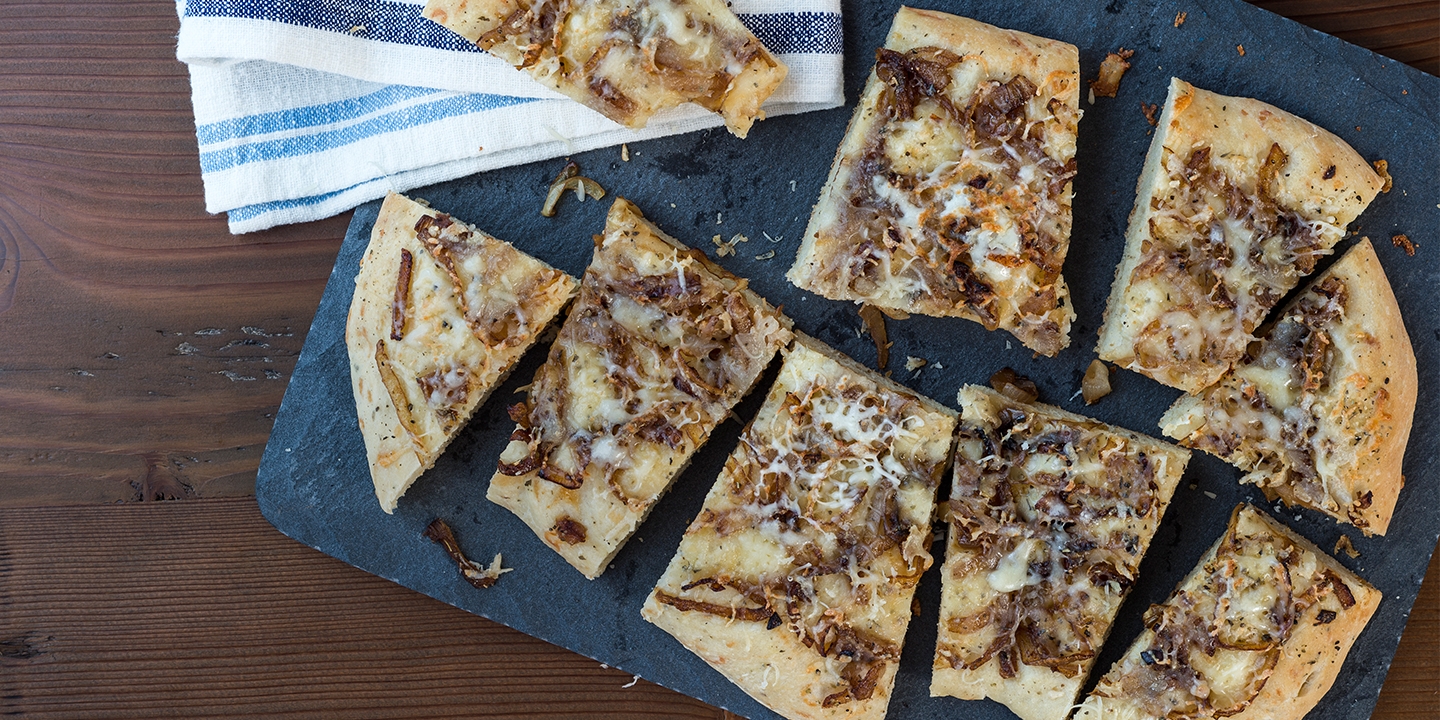 Ingredients
3 tbsp. olive oil, divided

1½ cups water heated to 120° F

4 tbsp. Cache Valley® Butter, divided

1 tsp. salt

3¾ cups all-purpose flour

1 pkg. (2¼ tsp.) instant yeast

½ tsp. garlic powder

¾ tsp. Italian seasoning, divided

1½ cups Cache Valley® 6-Cheese Italian Shredded Cheese, divided

1 medium onion, thinly sliced

1 tbsp. balsamic vinegar

¼ tsp. ground black pepper
Steps
SPREAD 1 tbsp of olive oil in the bottom of a 9 x 13 pan.

PLACE water and 2 tbsp. butter into a small bowl and stir until butter has melted.   

PLACE the salt, flour, yeast, garlic powder and ½ tsp. Italian seasoning into the bowl of a food processor fitted with the metal blade.   

POUR in water and butter and process for 1 minute or until the mixture forms a dough (it will be somewhat wet).   

ADD ½ cup cheese and pulse until the cheese is evenly distributed in the dough.

TRANSFER the dough into the oiled pan, pressing until it forms an even layer; cover, and let rise at room temperature for 1 hour until it becomes puffy.

MELT the remaining 2 tbsp. butter in a medium-sized non-stick skillet over medium heat.

ADD the onions and cook, stirring occasionally, for about 15 minutes or until golden.

STIR in the balsamic vinegar and pinch of salt and continue cooking about 1 minute or until liquid has mostly evaporated. Remove from heat and let cool.

PREHEAT oven to 375° F.

GENTLY POKE dough all over with your fingertips and drizzle with the remaining 2 tbsp. of olive oil. Arrange onion slices over dough, and sprinkle with remaining ¼ tsp. Italian seasoning and pepper.   

BAKE for 25 to 30 minutes until the edges just start turning golden.  Sprinkle remaining 1 cup of cheese over top. Return to oven and bake for another 5 to 10 minutes or until the cheese has melted.

REMOVE from oven and wait 5 minutes, then lift out of pan.   

SERVE warm.